This post will look at career options for Enneagram Type 4s that provide a sense of purpose.  Below is more than a generic listing of job titles; you'll find ideas for finding and creating work that you'll enjoy as an Enneagram Four.
The purpose of connecting the dots between your enneagram type and a career is NOT to narrow you into a specific field or niche but to help you understand what motivates you as a person and how to connect that with work that you'll find fulfilling.
The Enneagram is useful for discovering your personality type and the core motivations that shape you.  It is also useful for helping you find a career path that will be meaningful and fulfilling.
Your career is an opportunity to make a difference, serve others, and find joy in your work.  The Enneagram Career Guide is specifically designed to help you understand how your unique personality can intersect with the work you're passionate about.
Enneagram Type 4 Careers And How Personality Plays An Important Role In Enjoying Work
An Enneagram Four is on the hunt for depth and authenticity. They are in tune with their feelings and with the environment surrounding them. Fours can also be very creative, artistic, and inspiring.
The nine Enneagram numbers are divided into three triads of expression: Action, Feeling, and Thinking.  An Enneagram Four is situated within the feeling center.  They are very attuned to their feelings and experience them on a wide spectrum.  They are also aware of others' feelings and the climate around them. Because of this, fours typically are sensitive, creative, and striving for authenticity.
The core desire of a four is to be authentic.
The message fours long to hear is, "You are special and unique."
The gifts of an Enneagram Four include:
Self-Aware: Fours are aware of their own emotions and those of others and seek to understand these emotions. This enables them to connect deeply.
Purpose Driven: Being attuned to what has meaning and purpose drives Fours to express their purpose and contribution to the world.
Inspired: Their creative and imaginative capacity enables Fours to express what matters to them uniquely.
Sensitive: Fours can recognize what is missing and will dive into the heart of matters. Their feeling-based intuition enables them to be highly attuned to the environment.
Courage: Fours don't shy away from suffering and the more painful aspects of the emotional world, giving them the courage to ask difficult questions. (Integrative9.com)
Considering these traits, an enneagram four is commonly referred to as the "creative" or "individualist."   Therefore, Enneagram Type Four careers that provide an opportunity to leave an impression, be creative, share their insights, and be expressive in their work will allow them to naturally lean into their giftings and personality traits.
If you're unsure which number you are, feel free to check out the post: Four Free And Accurate Enneagram Tests to help you identify your type.  If necessary, take a little more time to discover your type and then come back to read more about what careers would be a good fit for you.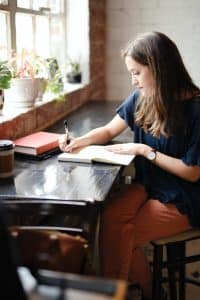 Key Motivations That Should Influence Enneagram Type 4 Careers
A career can inspire a Type 4 when the role aligns with their core motivations.  Below are five critical motivations of Enneagram four's, along with five demotivators that will hinder work engagement.
How To Motivate An Enneagram Four At Work
A career will be motivating to an Enneagram Type 4 if the work is:
Authentically expressing ideas, concepts, and values
Seeking creativity and vulnerability
Open to new ideas and ways of doing things
Relational
Challenging others toward growth or change
The Reason Why Some Careers Are Draining To Enneagram Type 4's
When a person experiences stress or fatigue in a job, it is often related to activities draining the individual.  While there are almost always some aspects of work that a person will favor less than others, it is important to identify which parts of your job are energizing and which are draining.
Because an Enneagram Four is motivated by a desire to express individuality and be creative, if they are doing work that they feel causes them to compromise this core longing, it will not be fulfilling to them.
How To Demotivate An Enneagram Four
Enneagram fours will be demotivated from engaging with their work if:
They feel misunderstood or like an outcast
They believe it is insignificant
It  is focused on logic and practicality
It is confrontational
There is no room for new ideas
If you're an Enneagram Four and are searching for new career options, assess your current role and look for opportunities you may be overlooking to use your unique giftings and talents.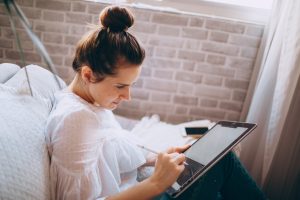 Famous Enneagram Type 4's & Their Career
Below is a list provided by The Enneagram Institute of famous people who could be considered to be Enneagram Fours.  Please notice that while they may share similar motivations and characteristics, their careers are various and in a wide range of work.
Famous Enneagram Fours:
Rumi, Frédéric Chopin, Pyotr I. Tchaikovsky, Gustav Mahler, Jackie Kennedy Onassis, Edgar Allen Poe, Yukio Mishima, Virginia Woolf, Anne Frank, Karen Blixen / Isak Dinesen
Anaîs Nin, Tennessee Williams, J.D. Salinger, Anne Rice, Frida Kahlo, Diane Arbus, Martha Graham, Rudolf Nureyev, Cindy Sherman, Hank Williams, Billie Holiday, Judy Garland
Maria Callas, Miles Davis, Keith Jarrett, Joni Mitchell, Bob Dylan, Paul Simon, Leonard Cohen, Yusuf Islam (Cat Stevens), Ferron, Cher, Stevie Nicks, Annie Lennox, Prince, Sarah McLachlan
Alanis Morrisette, Feist, Florence Welch, Amy Winehouse, Ingmar Bergman, Lars von Trier, Marlon Brando, Jeremy Irons, Angelina Jolie, Winona Ryder, Kate Winslet, Nicolas Cage, Johnny Depp, Kat Von D., Magician Criss Angel
The spectrum of work represented by the list of type fours above varies tremendously.  Therefore, concerning enneagram type 4 careers, I believe the best question is, How can an enneagram four allow their giftings and healthy motivations to influence work they believe is meaningful?
16 Popular Enneagram Type 4 Career Fields:
Visual Arts
Journalism
Forestry
Culinary Arts
Writing
Philosophy
Politics
Fashion
Philanthropy
Business
Photography
Entertainment
Musicians
Actors
Writers
Artist
If you still are unsure or feel stuck, try the following two suggestions.
Two Ways To Address Your Career If You Unhappy As An Enneagram 4
Consider if there is room in your current work to fulfill some of the motivations listed above.  If not, speak to your employer about how you might be able to help in those areas.
Consider if you are engaged in a field of work that you believe is important and meaningful.  If not, begin a journey of identifying career paths that you believe will be fulfilling.
If you believe it is time to make a change, use the guide to help navigate enneagram type 4 careers toward meaningful work.
Successful Enneagram Type 4 Careers Conclusion
Healthy Enneagram Type 4 Careers should not be limited to a specific field or title.  A career choice for an Enneagram Four should be based on their freedom to inspire change through creativity.  Fours thrive in an environment where their individuality is appreciated and have the ability to drive positive change through authentic expression.
To Summarize:
Identify what motivates you
Assess if there is room in your current job to capitalize on your key motivations and giftings
Evaluate if you are in a field that you believe is important
Consider if the work you are doing is meaningful to you and helpful to others
Career options for an Enneagram Type 4 can be limitless once you realize that you'll find enjoyment from work that provides freedom to exercise creativity and uniquely share new ideas or concepts.
Connecting your passion with the work you enjoy should not be so difficult.
How much is a frustrating work environment costing you?
Could your life be more fulfilling if you had a clear path toward meaningful work?
Are you wasting time and stress because you're unsure what to do next? A confusing, tired, boring career may already cost you a great deal.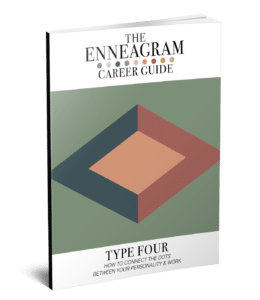 The Enneagram Career Guide is an interactive workbook that uses the lens of the enneagram to help you create alignment between your personal motivations and your work.
The Enneagram Career Guide will help you with the following:
Become aware of thoughts that are limiting you and replace them.
Identify what motivates you.
Consider if your current work is meaningful to you and helpful to others.
Use The new information about yourself to enhance your career.
What Is Included In The Career Guide?
35-page downloadable workbook
Explanation of type
Key motivations of type
Demotivators of type
Evaluation of current career path
Connecting your key motivations with career options
Next steps
FAQs About The Enneagram Career Guide
Will you mail me a physical copy of the Career Guide?
The Career Guide is delivered by email as a PDF file.  It is yours to keep and use as often as needed.
What is your refund policy?
Because our products are digital goods delivered via Internet download, refund requests made after you have downloaded our product are handled case-by-case and are issued at our sole discretion. Refund requests, if any, must be made within ten (10) days of your original purchase.
Do you have career guides available for other types?
Yes, you can view all available career guides by clicking HERE.
How do I pay for the career guide?
After you select the guides using the purchase button, select checkout.  You will then be taken to the checkout page.  On the checkout page, you can choose your payment method.  Enter your information and finalize by selecting the purchase button.
Download the career guide specifically created for Enneagram Type 4s! Learn how to create a clear path toward work you love, which is helpful to others too!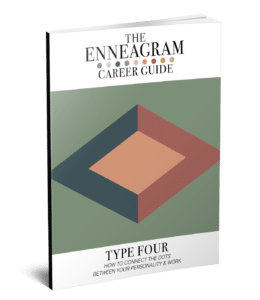 The Goal of the Enneagram Career Guide is to help you:
1. Become aware of thoughts that are limiting you and replace them.
2. Identify what motivates you.
3. Consider if your work is meaningful to you and helpful to others.
4. Use the new information about yourself to enhance your career.
Too often, we use the wrong lens when examining our career opportunities.
We say things like:
"I'm stuck here,"
"It's too late to change,"
"I blew it (I'm a loser)."
"There are no opportunities out there for me."
"I don't need to network."
"I can't risk losing the money I make now."
"I'll be doing this forever."
These are all limiting thoughts and do not have to be true for your life.
You can change, overcome, learn new skills, make adjustments, and create alignment.
 You can connect the dots between your giftings and your career.
Using the guide to help you align your passion with your work is a worthwhile endeavor, and I am cheering for you. Here's to pursuing a meaningful career as an Enneagram Four!