Now more than ever people want to engage in work that is meaningful and fulfilling.  In this post, we'll take a look at enneagram type 7 careers that will provide a sense of purpose.  Below is more than a generic listing of job titles, you'll find ideas for finding and creating work that you enjoy as an enneagram five.
The purpose of connecting the dots between your enneagram type and a career is NOT to narrow you into a specific field or niche but to help you understand what motivates you as a person and how to connect that with work that you'll find fulfilling.
The enneagram is useful for discovering your personality type, along with the core motivations that shape you.  It is also useful for helping you find a career path that will be meaningful and fulfilling.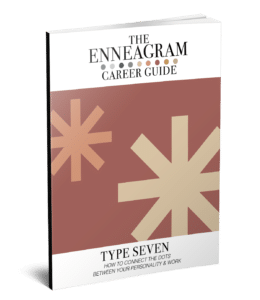 Your career is an opportunity to make a difference, serve others, and find joy in the work that you do.  The enneagram career guide is specifically designed to help you understand how your unique personality can intersect with the work you're passionate about.
Understanding Enneagram Type 7 Personalities And How It Can Impact Their Career
An enneagram seven love variety and like to keep their options open. They are highly optimistic, future-thinking, and energetic. A type seven is typically spontaneous, busy, and loves to have fun.
The nine enneagram numbers are divided into three categories of expression: Action, Feeling, and Thinking.  An enneagram seven is situated within the thinking center.  They are visionaries full of enthusiasm.  They are also excited by new ideas and love spontaneity.  Because of this, sevens typically are adventurous, relationally-driven, and value new experiences.
The core desire of sevens is to be happy.
The message sevens long to hear is, "You will be completely cared for."
The gifts of an Enneagram Seven include:
Optimistic: The Seven's focus on what brings joy, happiness, and pleasure to life enables them to exude optimism.
Flexible: As Sevens are attuned to possibilities and like to keep their options open, they will be adaptable in the face of change, setbacks, and challenges.
Future-Oriented: By focusing on what is next, the Seven's enthusiastic and visionary qualities enable them to both anticipate and create an exciting future.
Practical: At their best, Sevens combine their ideas with a practical and productive focus that enables them to make things happen.
Adventurous: As a playful, versatile, and spontaneous person, Sevens savor their freedom and like to explore new territories and experiences. (Integrative9.com)
Considering these traits, an enneagram seven is commonly referred to as the "enthusiast" or "visionary".   Therefore, enneagram type seven careers that provide an opportunity for new experiences in correlation with large amounts of freedom will allow them to naturally lean into their giftings and personality traits.
By the way, if you're not quite sure which number you are, feel free to check out the post: Three Free And Accurate Enneagram Tests to help you identify your type.  If necessary, take a little more time to discover your type and then come back to read more about what careers would be a good fit for you.
Want More Free Help?  3 Ways The Enneagram Can Immedietely Help You Make Career Decisions

Famous Enneagram Type 7's & Their Career
Below is a list provided by The Enneagram Institute of famous people who could be considered to be enneagram sevens.  Please notice that while they may share similar motivations and characteristics their careers are various and in a wide range of work.
Famous Enneagram Seven: The 14th Dalai Lama, Galileo Galilei, W.A. Mozart, Thomas Jefferson, Benjamin Franklin, Amelia Earhart, Richard Feynman, Wassily Kandinsky, Ram Dass, Timothy Leary, Noel Coward, John F. Kennedy, Joe Biden, Sarah Palin, Silvio Berlusconi, Malcolm Forbes, Richard Branson, Ted Turner, Suze Orman, Leonard Bernstein, Chuck Berry, Elton John, Mick Jagger, Fergie, Miley Cyrus, Britney Spears, Katy Perry, Russell Brand, Sacha Baron Cohen, Federico Fellini, Steven Spielberg, Fred Astaire, Cary Grant, John Belushi, Joan Rivers, Bette Midler, Goldie Hawn, George Clooney, Brad Pitt, Robin Williams, Jim Carrey, Mike Meyers, Bruce Willis, Robert Downey, Jr., James Franco, Leonardo DiCaprio, Charlie Sheen, Cameron Diaz, Paris Hilton, David Duchovny, Larry King, Howard Stern, Simon Cowell
Famous Enneagram Type 7 Careers: Philosophy, Physics, Politics, Pilot, Writer, Philanthropy, Business, Entertainment, Musicians, Actors, Artist, Inventor
The spectrum of work represented by the list of type sevens above varies tremendously.  Therefore, concerning enneagram type 7 careers, I believe the best question to ask is, "How can an enneagram seven allow their giftings and healthy motivations to influence work they believe is meaningful.
Key Motivations That Should Influence Enneagram Type 7 Careers
How To Motivate An Enneagram Seven
Enneagram sevens will be motivated to engage with their work if they believe it is:
Relational
Exploring new possibilities
Creative and innovative
Full of new opportunities
A positive, upbeat environment
Understanding Why Some Careers May Be Draining To You As An Enneagram 7
When a person experiences stress or fatigue in a job it is often related to activities that are draining to the individual.  While there are almost always some aspects of work that a person will favor less than others, it is important when possible to identify which parts of your job are energizing and which parts are draining.
Because an enneagram seven is motivated by a desire to be happy, if they are doing work that they feel causes them to compromise this core longing it will not be fulfilling to them.
How To Demotivate An Enneagram Seven
Enneagram type 7 careers are motiving if they believe the work is:
Limited by rules
They feel isolated or alone
Coworkers are unreliable
Routine
They lack the freedom to make decisions
If you are enneagram seven, assess your current role and look for opportunities you may be overlooking to use your unique giftings and talents.  If you still are unsure or feel stuck try the following two suggestions.
How much is a frustrating work environment costing you?  Could your life be more fulfilling if you had a clear path toward meaningful work?
Are you wasting time and stress because you're not sure what to do next? A confusing, tired, boring career may already be costing you a great deal.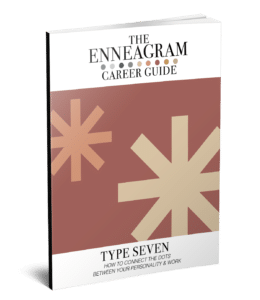 The Enneagram Career Guide is an interactive workbook that uses the lens of the enneagram to help you create alignment between your personal motivations and the work that you do.
Two Ways To Address Your Career If You Unhappy As An Enneagram 7
Consider if there is room in your current work to fulfill some of the motivations listed above.  If not, speak to your employer about how you might be able to help in those areas.
Consider if you are engaged in a field of work that you believe is important and meaningful.  If not, begin a journey of identifying career paths that you will believe will be fulfilling.
If you believe it is time to make a change, use the Enneagram Career Guide For Type Seven to help navigate toward meaningful work.
The Enneagram Career Guide will help you:
Become aware of thoughts that are limiting you and replace them.
Identify what motivates you.
Consider if your current work is meaningful to you and helpful to others.
Use new information about yourself to enhance your career.
What Is Included In The Career Guide?
35-page downloadable workbook
Explanation of type
Key motivations of type
Demotivators of type
Evaluation of current career path
Connecting your key motivations with career options
Next steps
FAQ's About The Enneagram Career Guide
Will you mail me a physical copy of the Career Guide?
The Career Guide is delivered by email as a PDF file.  It is yours to keep and use as often as needed.
What is your refund policy?
Because our products are digital goods delivered via Internet download refund requests made after you have downloaded our product are handled on a case by case basis and are issued at our sole discretion. Refund requests, if any, must be made within ten (10) days of your original purchase.
Do you have career guides available for other types?
Yes, you can view all available career guides by clicking HERE.
How do I pay for the career guide?
After you select the guides using the purchase button, select checkout.  You will then be taken to the checkout page.  On the checkout page, you can choose your payment method.  Enter your information and finalize by selecting the purchase button.
Healthy Enneagram Type 7 Careers Conclusion
Healthy Enneagram Type 7 Careers should not be limited to a specific field or title.  A career choice for an enneagram seven should be based on their freedom to have new experiences and network.  Sevens thrive in an environment that is optimistic.  Additionally, sevens will feel fulfilled when they can drive positive change by providing vision and dreaming of new possibilities.
To emphasize one last time, I chose not to include a specific list of enneagram type 7 careers to consider because I believe it is limiting.  As an enneagram 5, I have spent most of my career in a field that others have categorized as something I would not enjoy.  Also, I often find career suggestions for my enneagram type unappealing.
To Summarize:
Identify what motivates you
Assess if there is room in your current job to capitalize on your key motivations and giftings
Evaluate if you are in a field that you believe is important
Consider if the work you are doing is meaningful to you and helpful to others
I hope this post helps you find enneagram type 7 careers and options that you'll find enjoyment from and serve others well in too.
Connecting your passion with work that you enjoy should not be so difficult.
Download the guide specifically created to help direct enneagram type 7 careers! Create a clear path toward work you love and that is helpful to others too!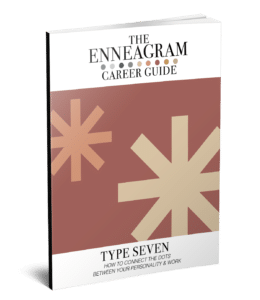 The Goal of the Enneagram Career Guide is to help you:
1. Become aware of thoughts that are limiting you and replace them.
2. Identify what motivates you.
3. Consider if your work is meaningful to you and helpful to others.
4. Use the new information about yourself to enhance your career.
Too often, we use the wrong lens when examining our career opportunities.
We say things like:
"I'm stuck here,"
"It's too late to change,"
"I blew it (I'm a loser)."
"There are no opportunities out there for me."
"I don't need to network."
"I can't risk losing the money I make now."
"I'll be doing this forever."
These are all limiting thoughts and do not have to be true for your life.
You can change, overcome, learn new skills, make adjustments, and create alignment.
 You can connect the dots between your giftings and your career.
Using the guide to help you align your passion with your work is a worthwhile endeavor and know that I am cheering for you.