For years, I've immersed myself in the world of the Enneagram, observing the unique preferences and values of each type. If you're here, you're probably seeking the perfect gift that truly resonates with someone's Enneagram type. Welcome, and thanks for dropping by!
Selecting the right gift isn't just about the object itself; it's a message. It says, "I understand you. I value what makes you, you." The Enneagram isn't only a journey of self-discovery but also a window into the souls of those around us.
We all have those few people in our lives — the ones who stump us when it comes to finding that perfect gift. Or perhaps, there's a special occasion approaching, and you want your gift to stand out. Say goodbye to those generic grocery store gift cards! Dive into this Enneagram gift guide and discover thoughtful presents that'll make your loved ones feel truly seen.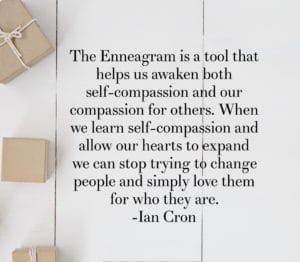 The Enneagram Gift Guide For Every Type
*Disclosure:  Keep in mind that we may receive commissions when you click our links and make purchases. However, this does not impact our reviews and comparisons. We try our best to keep things fair and balanced to help you make the best choice for you. As an Amazon Associate, I earn from qualifying purchases.
Use The Links To Navigate To Each Type
Gifts For Enneagram 1: The Improver
Enneagram Ones, known as The Improver or sometimes 'Perfectionist', have an unwavering sense of right and wrong, driven by principles, integrity, and a relentless inner critic. They place immense value on order, consistency, and self-improvement. When gifting a One, choose items or experiences that respect their dedication to perfection, offer a break from their internal rigor, or support a cause close to their heart. It's crucial to communicate the essential message they long to hear: "You are good just as you are." Your gift should acknowledge their earnest efforts and the pure intentions behind their tireless striving.
A self-improvement gift is sure to please, for example, a Cashmere Cardigan,
Gordan Ramsay's Cook Book
, Jewelry Organization Cabinet
, or Lowe's Gift Card
.
More Gifts Ideas For Enneagram Type One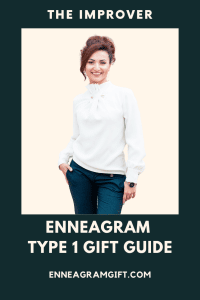 Gifts For Enneagram 2: The Helper
Enneagram Twos, labeled as The Helpers, are the emotional anchors of relationships, driven by an innate desire to be loved and appreciated. They are the quintessential nurturers, always seeking deep connections and putting others' well-being above their own. When selecting a gift for a Two, think of items that highlight their irreplaceable role in your life, encourage self-care, or amplify their relational nature. It's essential to convey the heartfelt message they yearn for: "You are immensely loved and wanted." Your chosen present should reflect the boundless love they offer and remind them of their cherished place in your heart.
A gift related to self-care would be a great idea because two's can tend to put others before themselves. Consider a Kneading Massage Pillow, Bath Bombs Gift Set
, Sunday Suppers: Recipes + Gatherings Cookbook
, or some Apple AirPods
.
More Gifts Ideas For Enneagram Type Two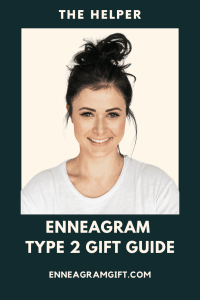 Gifts For Enneagram 3: The Achiever
Enneagram Threes, known as The Achievers, are the dynamos of determination and success. They tirelessly chase goals, influencing others with their zest for accomplishment. When gifting a Three, opt for items that echo their relentless drive, aid in their personal or professional quests, or celebrate their triumphs. It's essential to articulate the message they deeply crave: "You are inherently valuable." Your gift should encapsulate your admiration for their unwavering dedication and the achievements they've garnered along the way.
The three in your life may like an Apple Watch
, a Digital Display Steam Iron
, the Full Focus Planner by Michael Hyatt
, or a Seven Year Pen
.
More Gifts Ideas For Enneagram Type Three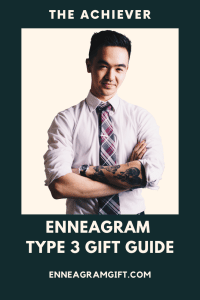 Gifts For Enneagram 4: The Creative Individualist
Enneagram Fours, termed The Creative Individualists, crave depth and true authenticity. They are inherently creative, often serving as muses for others. When selecting gifts for a Four, seek items that resonate with their unique spirit and passion for artistry. It's essential to celebrate their individuality, recognizing their quest for genuine self-expression. Choose gifts that let them shine in their unique light and remind them, "You are special and unique."
An exceptional gift and one of a kind will be deeply loved. Perhaps something like a Fine Leather & Waxed Canvas Bag Purse
, Foodie Dice
, Personalized Wood Cutting Board
, or Ghirardelli Intense Dark Chocolate Squares
.
More Gifts Ideas For Enneagram Type Four
Gifts For Enneagram 5: The Observer
Enneagram Fives, known as The Observer, are deeply analytical and thrive on intellectual pursuits. They possess an unquenchable thirst for knowledge, often diving deep into subjects to truly understand them. When gifting a Five, opt for items that fuel their curiosity, support their research, or challenge their thinking. Recognize their competence but also remind them, "You're capable, but it's okay to ask for help." Your gift should acknowledge their intellectual depth and support their explorative nature.
The best gift for an enneagram type 5 could be a Kindle Whitepaper Reader, Bose Noise Cancelling Headphones, Quiet: The Power of Introverts in a World That Can't Stop Talking Book, or an Echo Dot Smart Speaker with Alexa.
More Gifts Ideas For Enneagram Type Five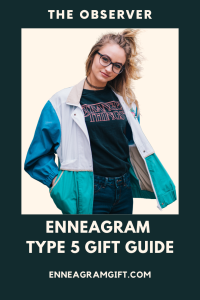 Gifts For Enneagram 6: The Loyalist
Enneagram Sixes, recognized as The Loyalist, deeply value security, trust, and commitment. With a core desire for safety and support, they thrive in trustworthy surroundings. When gifting a Six, consider items that offer comfort, consistency, or evoke cherished memories. Your choice should resonate with their need for stability and reinforce the bond of trust you share. Remember, for a Six, the message "You are safe" is a cherished affirmation.
The following gift ideas based on a type six personality will communicate you're just as committed to their friendship as they are to you: Organic Lip Balm, a Weighted Blanket, an Essential Oil Diffuser, or a Genuine Leather RFID Blocking Bifold Wallet.
More Gifts Ideas For Enneagram Type Six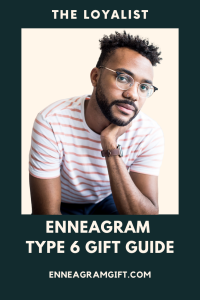 Gifts For Enneagram 7: The Enthusiastic Visionary
Type Sevens, known as The Enthusiastic Visionaries, are the natural optimists of the Enneagram. They thrive on fun, spontaneity, and adventure. When gifting a Seven, choose experiences or items that cater to their love for variety, exploration, and their underlying desire to feel completely cared for. It's essential to communicate the joyous affirmation they seek: "You will be completely cared for." Your gift should amplify their zest for life and resonate with their vibrant spirit.
For the seven in your life consider an Airbnb Gift Card, a Southwest Airlines Gift Card, The Bucket List Book, or a Gourmet Gift Basket of Chocolates, Cookies, and Snacks.
More Gifts Ideas For Enneagram Type Seven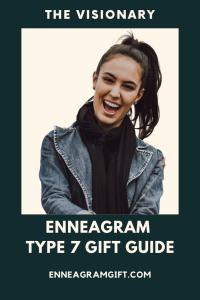 Gifts For Enneagram 8: The Challenger
Eights, known as The Challenger, are natural leaders, displaying power and self-assurance. With a deep sense of justice, they stand firm in their convictions and champion the underdog. When gifting an Eight, choose items or experiences that empower them, align with their leadership qualities, and resonate with their compassionate nature. It's crucial to affirm the message they seek: "You are important." Your gift should reflect their determination, commitment, and desire to make a positive impact.
The following gifts are appropriate based on an eight's personality type: An Amazon.com eGift Card, the book: Extreme Ownership: How U.S. Navy SEALs Lead and Win, a Why You're So Awesome Fill-in-the-Blank Gift Journal or a Muscle Roller For Body Massage And Recovery.
More Gifts Ideas For Enneagram Type Eight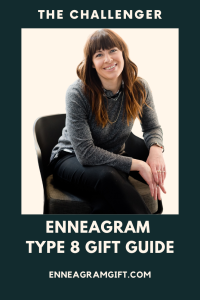 Gifts For Enneagram 9: The Peacemaker
Nines, The Peacemaker, are the harmonious anchors in relationships, always advocating for balance and understanding. Modest and diplomatic, they often prioritize others over themselves. When gifting a Nine, opt for items or experiences that promote relaxation, balance, and serenity. It's essential to remind them of their inherent worth, reinforcing the affirmation they need: "You matter too." Your gift should encapsulate the essence of peace and contentment that they bring to every situation.
The nine in your life may like a Mountain Reflections Jigsaw Puzzle, a Handwarmer Drinking Mug, a Godiva Chocolatier Dark and Milk Hot Cocoa Variety Set, or a Super Soft Shaggy Longfur Throw Blanket.
More Gifts Ideas For Enneagram Type Nine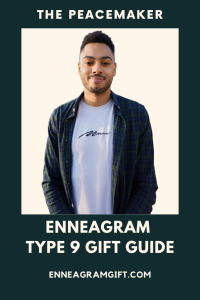 Final Thoughts To Consider
Gift-giving is more than a mere transaction; it's a heartfelt gesture that says, "I understand and appreciate you." Through gifts, we can highlight the unique qualities in others that might sometimes feel overshadowed.
This concise Enneagram Gift Guide is crafted to help point you in the right direction for each personality type. When you give, you're not only sharing a tangible item but also expressing your appreciation for the individuality of the recipient. Let each gift be a celebration of the essence of those you hold dear.
Here's to thoughtful gifting and cherished memories. Happy Gift Giving!