Thanks for visiting this page! I hope it helps you choose the best enneagram gifts for the different personality types in your life!
Giving the right gift has the power to communicate to those we care about that we genuinely understand and "get" them.
The Enneagram is a wonderful tool for self-discovery and awareness, but it can also be used to learn more about those around us too.
You probably have people in your life that are more difficult to buy for than others. Or, maybe it's just time to buy a special gift for your friend or loved one.
The benefit of filtering your next gift selection through this enneagram gift guide is it will help you avoid the gift card section at the grocery store and instead find a meaningful gift for those you're buying for.
The Enneagram Gift Guide For Every Type
*Disclosure:  Keep in mind that we may receive commissions when you click our links and make purchases. However, this does not impact our reviews and comparisons. We try our best to keep things fair and balanced to help you make the best choice for you. As an Amazon Associate, I earn from qualifying purchases.
Enneagram Gifts For Type 1:  The Perfectionist
A one tends to be very rational. They can be very black and white, principled, and perfectionistic. They often feel responsible for improving themselves and the world around them.
The core desire of a one is to have integrity, be good, full of virtue, and correct.
The message they most want to hear from others is something like, "You are good."
A self-improvement gift is sure to please, for example, a Cashmere Cardigan,
Gordan Ramsay's Cook Book
, Jewelry Organization Cabinet
, or Lowe's Gift Card
.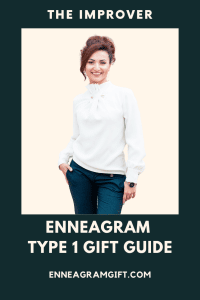 Enneagram Gifts For Type 2:  The Helper
Twos are relational and selfless people. They are caring and generous, aiming to please. A type two is loving and giving in nature, sometimes to a fault.
The core desire of a two is to be appreciated.
The message a two most wants to hear is, "You are so loveable and wanted."
A gift related to self-care would be a great idea because two's can tend to put others before themselves. Consider a Kneading Massage Pillow, Bath Bombs Gift Set
, Sunday Suppers: Recipes + Gatherings Cookbook
, or some Apple AirPods
.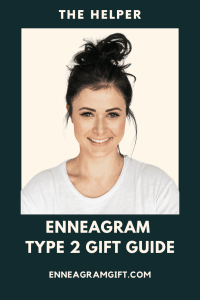 Enneagram Gifts For Type 3:  The Achiever
Threes tend to be goal-oriented doers. They are success-driven and value accomplishment. A three can be influential, talented, and good at setting goals.
The core desire of a three is to be admirable, successful, and respected.
The message a three most want to hear is,  "You are valuable simply for being you ."
Because a three appreciates success and admiration, a nice gift that communicates value and achievement will be thoughtful.
The three in your life may like an Apple Watch
, a Digital Display Steam Iron
, the Full Focus Planner by Michael Hyatt
, or a Seven Year Pen
.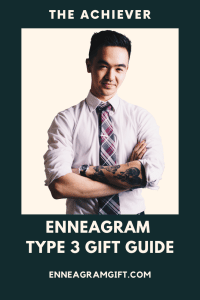 Enneagram Gifts For Type 4:  The Creative Individualist
Fours are on the hunt for depth and authenticity. They are in tune with their feelings and the environment surrounding them. A four can also be very creative, artistic, and inspiring.
The core desire of a four is to be authentic.
The message a four longs to hear is, "You are special and unique."
An exceptional gift and one of a kind will be deeply loved. Perhaps something like a Fine Leather & Waxed Canvas Bag Purse
, Foodie Dice
, Personalized Wood Cutting Board
, or Ghirardelli Intense Dark Chocolate Squares
.
Enneagram Gifts For Type 5:  The Observer
Fives, for the most part, are private, with a very active mind. They are observan,t like to understand how the world works, and knowledgeable. An enneagram five can be intense, perceptive secretive, and even innovative.
The core desire of a five is to be competent.
The message a five wants to hear is, "Your capable, but it's ok to ask for help."
The best gift for an enneagram type 5 could be a Kindle Whitepaper Reader, Bose Noise Cancelling Headphones, Quiet: The Power of Introverts in a World That Can't Stop Talking Book, or an Echo Dot Smart Speaker with Alexa.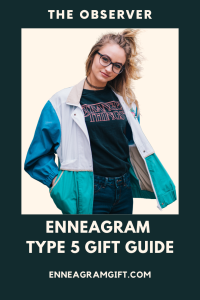 Enneagram Gifts For Type 6:  The Loyalist
Sixes make great friends. They are loyal (hence the title), responsible, and committed. A six will value security, feeling safe, and high levels of trust.
The core desire of a six is to be secure and supported.
The message a six most wants to hear is, "You are safe."
The following gift ideas based on a type six personality will communicate you're just as committed to their friendship as they are to you: Organic Lip Balm, a Weighted Blanket, an Essential Oil Diffuser, or a Genuine Leather RFID Blocking Bifold Wallet.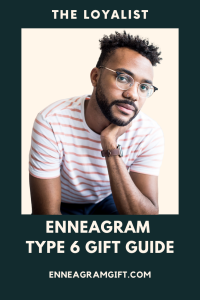 Enneagram Gifts For Type 7: The Enthusiastic Visionary
Sevens love variety and like to keep their options open. They are highly optimistic, future-thinking, and energetic. A type seven is typically spontaneous, busy, and loves to have fun.
The core desire of a seven is to be happy.
The message a seven longs for is, "You will be completely cared for."
Gifts that factor in a seven's spontaneity or their high levels of enjoyment of specific hobbies will be greatly appreciated. For the seven in your life consider an Airbnb Gift Card, a Southwest Airlines Gift Card, The Bucket List Book, or a Gourmet Gift Basket of Chocolates, Cookies, and Snacks.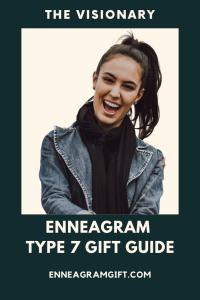 Enneagram Gifts For Type 8: The Challenger
Eights are powerful and self-confident. An eight can be a force of nature because they carry a strong presence and naturally like to take charge. An eight can also be compassionate and concerned with justice. They have a strong will and know what they want.
The desire of an eight is to be protected.
An eight wants to hear the message: "You are important."
Being that an eight likes to have control, the following gifts are appropriate based on an eight's personality type: An Amazon.com eGift Card, the book: Extreme Ownership: How U.S. Navy SEALs Lead and Win, a Why You're So Awesome Fill-in-the-Blank Gift Journal or a Muscle Roller For Body Massage And Recovery.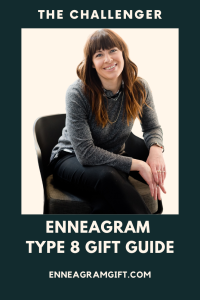 Enneagram Gifts For Type 9: The Peacemaker
Nines are often the glue that holds relationships together. They are diplomatic in their choice of words, modest, and generally easy-going. A nine tends to be agreeable and can often downplay their wants or needs. They are also great at seeing both sides of things too.
The desire of a nine is peace.
The message a nine longs to hear is, "You matter too."
The nine in your life may like a Mountain Reflections Jigsaw Puzzle, a Handwarmer Drinking Mug, a Godiva Chocolatier Dark and Milk Hot Cocoa Variety Set, or a Super Soft Shaggy Longfur Throw Blanket.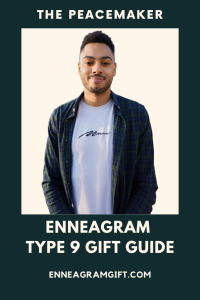 Gift giving is an opportunity to show the people you know and care about that you just "get them." A gift has the power to convey what you have noticed about others that they may often feel is overlooked or underappreciated.
I hope using this brief enneagram gift guide has given you ideas. Remember, giving a gift should be a joy to everyone involved and is an opportunity to communicate what you think is special about the person you're giving to. Gift-giving should be an act of celebrating what you know and love about others; I hope this has inspired you toward that!
Happy Gift Giving!